2017 Volkswagen Touareg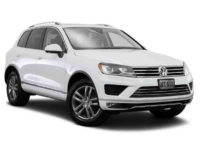 Price :
$655

/ month
2017 Volkswagen eGolf
Volkswagen Leasing on NY
Why bother with other car leasing agencies when we can offer you any new model car you could want – and at prices that will surprise you? And then there are the convenience we offer, the great customer service, and the unparalleled variety of vehicles! For ex., if you want a Volkswagen, we have them all. From the Beetle Convertible, Beetle Convertible Diesel, Beetle Diesel, Beetle Hatchback, CC Sedan, CrossBlue SUV, e-Golf Hatchback, Eos Convertible, Golf GTI Hatchback, Golf R Hatchback, Golf SportWagen Alltrack Wagon, Golf SportWagen Diesel, Golf SportWagen Wagon, Golf Diesel, Golf Hatchback, GTI Hatchback, Jetta GLI Sedan, Jetta Hybrid Sedan, Jetta SportWagen Diesel, Jetta SportWagen Wagon, Jetta Diesel, Jetta Hybrid, Jetta Sedan, Passat Diesel, Passat Sedan, Tiguan SUV, Touareg Diesel, Touareg Hybrid, to the Touareg SUV – you name a VW, we have it. And we can say the same for most any other brand of car out there, from Accura to Volvo. The same reason we can offer you that kind of variety is the same reason we can save you a lot of money. Here's our secret…
How We Do It
Most car leasing companies have a physical car lot you have to drive to – a car lot that is very limited in size and, therefore, very restrictive in terms of the number and variety of cars those businesses can offer. Those car lots cost a lot of money, too. There are property costs, property taxes, utility bills, insurance costs, the costs of sales staff, etc. We have none of those costs because we don't have a physical car lot; our car lot is online. Because our overhead is so much lower than "old-school" auto leasing companies, we have the luxury of being able to charge you much lower prices than they do. But the fact that our lot is virtual has other bonuses as well!
Convenience You'll Appreciate
Because our car lot is in the virtual world of the internet, it's accessible to you 24 hours a day, any day of the week, even on holidays. You don't have to find a ride to get to us, and you won't have a salesman following you around as you car shop, making you feel hurried even if that isn't his intent. You can sit in your home, or in your favorite coffee house, or in the park with your laptop, and car shop in a leisurely way, to your heart's content. You can get your friends' advice by emailing to them the cars that interest you, taking them on a "virtual car shopping trip" with you without having to worry about making your schedules match up.
Service You'll Love
If you have any questions while you look around our virtual lot, we're just a phone call away, ready to answer any questions you might have. And when it's time to think about financing, we'll do most of the work for you, working directly with bankers and other lenders to get you as good a deal as we can, we low interest rates, great terms, and monthly payments that are as low as we can make them.
And for a finishing touch, when it's time for you to drive your new car, you don't have to call friends to find a ride to go pick it up; we bring it to you! To your home, your office, or most anywhere you deem convenient.
Let's Talk!
Please, call us at 845-818-AUTO(2886) if you have any questions at all or are ready to lease! We know we can save you so much money – and provide convenience and service that other auto leasing businesses don't!